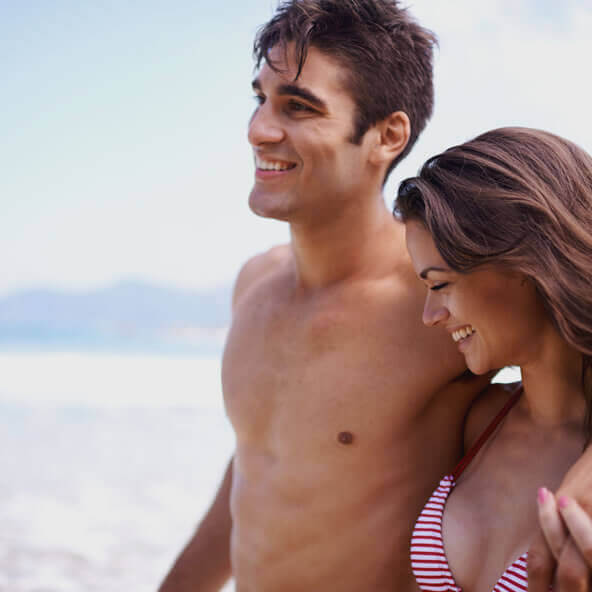 Dr. Selem is proud to offer a revolutionary new combination liposuction treatment. He is combining the fat melting power of Smartlipo™ with the Body-Jet® (water-assisted liposuction) fat removal system for an effective, safe and non-traumatic way to remove unwanted body fat. This new procedure results in less bruising, swelling, downtime, and contour abnormalities than with traditional liposuction techniques.
First, two small (1.5mm) incisions are created to access the area to be treated. The second step is the infiltration, in which tumescent solution, or numbing fluid, is delivered into the fat pocket where treatment is to be performed. The third step is using the fat-melting laser, or Smartlipo™, to liquefy the fat. The laser energy promotes skin tightening and easier fat removal. During the fourth step, the fat is actually aspirated or suctioned out. Traditionally, physicians have used straight suction or older technologies to accomplish this step. Unfortunately, the instruments mentioned above almost consistently destroy the septal attachments and can lead to nerve damage, excessive bleeding, lumps, bumps, and divots. These older techniques are very traumatizing to the human body because the surgeon must use forceful back and forth motion to achieve complete fat removal. The revolutionary Body-Jet®, on the other hand, gently washes the fat from the body.
The Body-Jet® uses a concentrated water jet to flush fat cells from the body, resulting in virtually no trauma to nerves, blood vessels, skin, muscle, or septal attachments. An additional benefit of this new technology is that the fat cells are still viable so that they can immediately be used for fat injections, without having to undergo a lengthy centrifuge process to prepare the fat for transfer. This is great for patients who might want to use their own natural fat cells to help smooth lines and wrinkles in order to restore their youthful appearance in facial areas.
The combination of the Body-Jet® and Smartlipo™ rewards patients with elite results with significantly less swelling, bruising and downtime. Patients receive complete fat removal, tighter skin and sculpted body areas. This procedure is done with the patient under local anesthesia in the office and takes about 45 minutes per body area. Candidates for this procedure can drive themselves to the office and drive home following the procedure. Patients considering this procedure should be in good overall health, close to normal body weight, and have realistic expectations for the results.
How Do I Get Started with Liposuction?
Dr. Joseph Selem and the staff at The Selem Center for Ophthalmology & Plastic Surgery would be happy to help you set up a private consultation to discuss liposuction. Schedule an appointment online or call us at 305-444-0221.