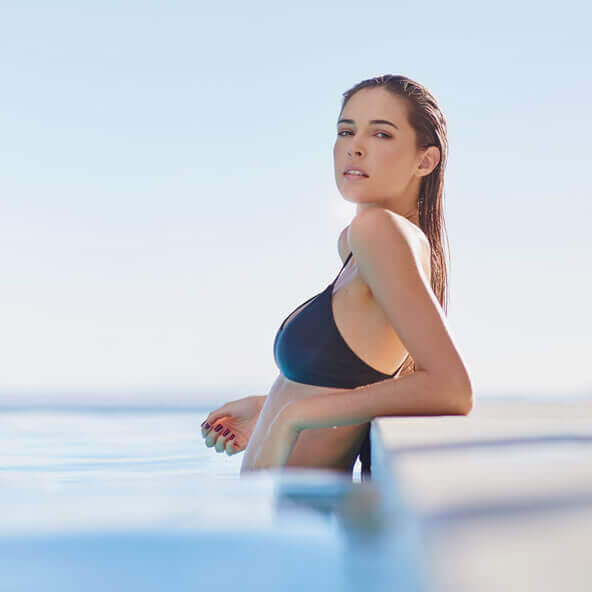 Water liposuction can flush away stubborn fat from the body with less downtime than traditional lipo procedures. Dr. Selem offers water jet liposuction for patients looking to improve contours and achieve youthful-looking definition. Water lipo is minimally invasive, meaning patients experience less healing time than past liposuction methods. Traditional lipo used to involve aggressive fat removal techniques, which resulted in significant bruising and scarring. Water jet liposuction, on the other hand, uses concentrated streams of water to separate fat cells from the surrounding tissue; this water-based procedure is much less invasive and patients should expect substantially less bruising and swelling to occur. Water assisted liposuction is typically completed using only local anesthesia.
Another benefit of water lipo is the ability to preserve your body's natural fat cells that are removed during your liposuction treatment; this allows our plastic surgeon to use your body's fat and reinsert it into areas of depleted volume. Patients can simultaneously slim fat pockets and restore lost volume around the face, hands or body by combining water liposuction and fat transfer. Excess fat removed during water liposuction is carefully reinjected into the desired area(s) to achieve natural-looking results.

Water jet liposuction takes 30-45 minutes per treatment area, on average, and is usually performed as an outpatient procedure. Patients are free to drive themselves home upon completing treatment and can expect to see results in the coming months. There are no stitches or noticeable scarring associated with water assisted lipo. Patients should be relatively close to their normal body weight when undergoing water liposuction, as this is not meant to be a significant fat removal procedure. Rather, water lipo targets pockets of fat with precision to enhance curves and provide natural-looking body sculpting results.

How Do I Get Started with Water-Jet Assisted Liposuction?
Dr. Joseph Selem and the staff at The Selem Center for Ophthalmology & Plastic Surgery would be happy to help you set up a private consultation to discuss water liposuction. Schedule an appointment online or call us at 305-444-0221.