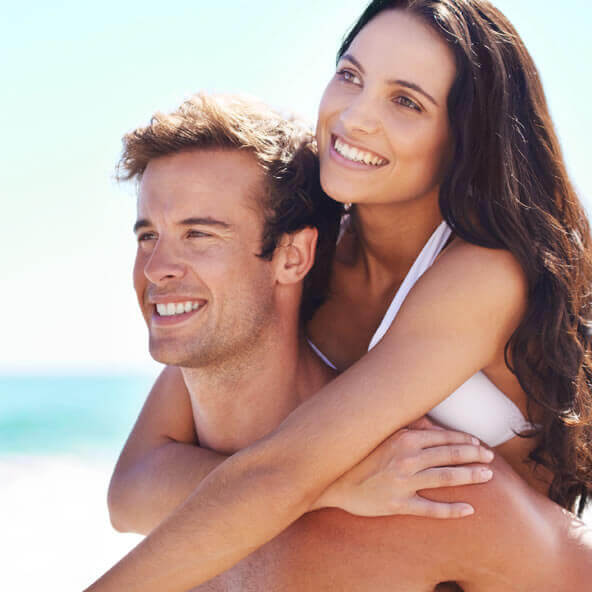 KYBELLA™ is the first non-surgical double chin injectable to be approved by the FDA. KYBELLA™ treatments can help reduce the appearance of a double chin and provide natural-looking results by targeting the underlying cause of submental fat. The formation of excess fat that results in a double chin is called submental fat. KYBELLA™ can help reduce the number of fat cells beneath the chin, which results in a firmer, smoother appearance of your facial profile and neck.
What is KYBELLA™ ?
KYBELLA™ is a double chin treatment that is FDA-approved and can help with double chin removal. The KYBELLA™ injectable is made up of deoxycholic acid. Deoxycholic acid is found naturally in your body and helps to absorb excess fat. KYBELLA™ injections can reduce the fat that results in a double chin, providing a natural-looking and slimmer profile. The amount of deoxycholic acid your body produces may slow with age. This slow in production means that your body is less efficient at absorbing excess dietary fat. The deoxycholic acid found in KYBELLA™ replaces this depletion, resulting in your body being able to more efficiently absorb excess fat.
KYBELLA™ injections are scientifically designed to target fat cells when administered properly, so only troublesome fat cells are eliminated and then naturally processed by the body. Re-treatment of KYBELLA™ is rarely needed once you reach your personal goals, as KYBELLA™ can adequately deliver pleasing, long-lasting results without the pain or discomfort of traditional surgeries. Dr. Selem will tailor your double chin treatment to your personal needs. The majority of patients reach their desired goals in 2 – 4 treatments.
What Can I Expect Before and After KYBELLA™ Injections?
The total number of KYBELLA™ injections and treatments that you will need varies on your case of submental fat and personal goals. Up to 6 KYBELLA™ treatments may be administered within a period of 4 – 6 weeks between each treatment. A KYBELLA™ treatment takes approximately 20 minutes to complete, depending on the total number of KYBELLA™ injections required. KYBELLA™ can help treat moderate-to-severe submental fat.
Prior to your KYBELLA™ injection, the area being treated will be thoroughly cleansed. After your KYBELLA™ injections, you may experience temporary discomfort, bruising, firmness, numbness, swelling or irritation around the area that was treated. Many patients are able to return to their daily activities shortly after their double chin treatment. You will notice results within the weeks following your KYBELLA™ injections, with continuing improvements developing over time.
Who Can Get KYBELLA™ Injections?
The ideal candidate for KYBELLA™ is a healthy individual who would like to improve his or her facial appearance and profile by reducing submental fat. Dr. Selem will decide your eligibility based on your goals, general health and medical history. Dr. Selem should be aware if you had or would like to have facial, chin or neck surgery/treatments. Certain medical conditions pertaining to the neck or chin may also not allow you to receive a double chin treatment. Pregnant and nursing women are not eligible to receive KYBELLA™ treatments.
If you have had a medical history of severe allergic reactions, you may not be eligible for KYBELLA™ . If you have any allergies or aversions to any ingredients of KYBELLA™ , you will also not be eligible for this treatment. Once fat cells are naturally eliminated from the body, they cannot re-enter your system. However, it is recommended to continue a healthy lifestyle to maintain your KYBELLA™ results.
How Do I Get Started with KYBELLA™ ?
Dr. Joseph Selem and the staff at The Selem Center for Ophthalmology & Plastic Surgery would be happy to help you set up a private consultation to discuss KYBELLA™ . Schedule an appointment online or call us at 305-444-0221.